THE ROUTE OF THE DOLMENS, PR-Gi 94 ELOSUA-PLAZENTZIA MEGALITHIC SITE
This route takes us along the way that used to connect the valleys of the Deba and Urola rivers. Between the Neolithic and the Bronze Age, human communities chose mountain ranges such as this one, prominent features in the landscape, as burial sites and boundary markers. Their legacy, in the form of megalithic monuments, is linked to the burial rites of their ancient culture.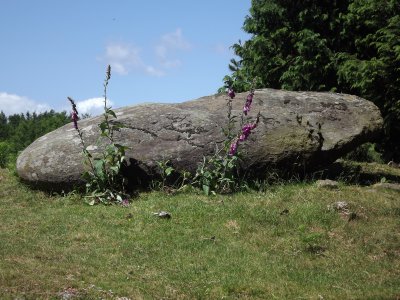 The dolmens and tumuli that make up the Elosua-Placencia megalithic site,* spread out along the mountain range defined by the summits of Karakate, Irukurutzeta and Agerreburu, whose appeal is heightened by the extraordinary views we can enjoy on our way The megalithic site has been declared of Cultural Interest, under the heading of Monumental Group, according to Basque legislation. It currently consists of 16 monuments (10 tumuli and 6 dolmens) located within the municipal boundaries of Bergara, Azkoitia, Antzuola, Elgoibar and Soraluze. They were mostly discovered by the Basque anthropologist J. M. de Barandiaran between 1920 and 1921, and excavated between 1921 and 1922, although most of the monuments had been plundered even before the first digs were made.
DOLMENS AND TUMULI
A dolmen is a collective burial site made up of vertical slabs of stone, which support another slab that acts as a cover, forming the burial chamber. This chamber is covered by a mound or a pile of stones.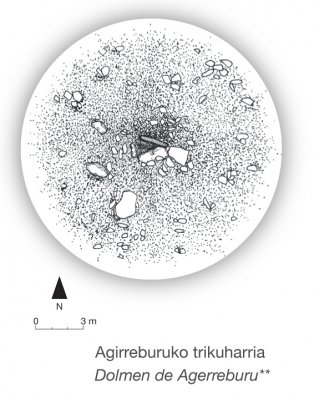 Tumuli do not contain dolmens, and it is often difficult to distinguish between a tumulus and a simple pile of stones. In these cases, only an excavation will reveal their true nature. tumulua.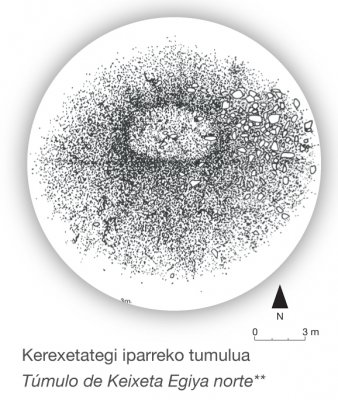 THE ROUTE OF THE DOLMENS PR-GI 94
The route of the dolmens involves a path that runs in a straight line along the Karakate-Agerreburu divide. The mountain range is accessible from any one of the following three towns: Bergara, Soraluze and Elgoibar Leaving from Bergara, we take the path in the neighbourhood of Arane, from where we can walk to Soraluze or Elgoibar, or we can take a circular route along the Aizpuru road (PR Gi-94.2), and head back to Bergara.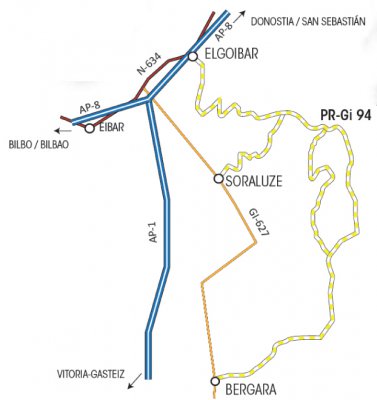 Along the way, we will be visiting the vestiges of the megalithic site's pre-historic shepherding culture, visible in the form of dolmens and tumuli, and we will have a chance to enjoy stunning beech forests, mountain pastures, as well as the extensive and sweeping views that range from the Bay of Biscay to some of the highest mountain areas in the Basque Country.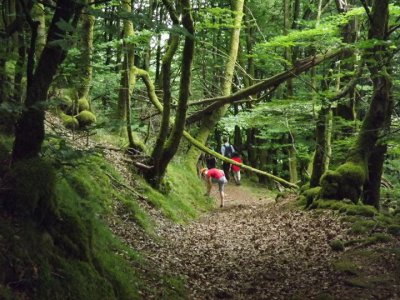 PUBLIC TRANSPORT
The towns of Elgoibar, Soraluze and Bergara are connected by bus. Information: www.lurraldebus.com
The route is clearly signposted. In addition, a leaflet is available both from the Tourist Office and in Agorrosin to help us enjoy this easy and pretty walk. This website also provides the option of downloading the route's track.