2. Middle ages: The town's foundation
Bergara first appeared in documents in 1050, in a deed drawn up by Sancho donating lands and apple orchards belonging to the monastery of San Miguel de Ariceta to the monastery of San Juan de la Peña.
Castile's occupation of Gipuzkoa by force in 1200 signalled the start of a process of founding towns with the following objectives:
to link Castile to the ports on the Bay of Biscay and open up trade routes. Within this context, Bergara stood on the road from Vitoria to Deba and Getaria. It has therefore been a market town and a magnet for merchants and traders.
To establish strongholds for counteracting the power of the various warring factions, the banderizos, and provide a line of defence against France and Navarre. Hence the reason that in 1273 Alfonso X released the town's residents from the obligation to pay taxes.
Villanueva de Vergara was therefore founded by Alfonso X the Wise in 1268 according to a charter awarded in Vitoria. The municipal government was in the hands of the local residents in a so-called open council.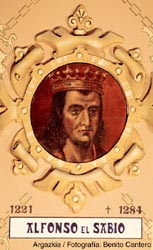 In 1348 and 1391, the neighbours of the parishes of Oxirondo and Uzarraga became part of the town, with the same rights and obligations as all the other residents. The wars between the local factions, the bandos, had also spread to the towns; in Bergara the Ozaeta feuded with the Gabiria. With a view to putting an end to the violence, the Catholic Monarchs introduced bylaws on good local governance in 1490. Over time, the weight of representation of each one of the town's components (the town itself and its outskirts, the parish of Oxirondo and the parish of Uzarraga) began to change, becoming a constant source of conflict between the parties.
With a view to resolving the matter, an agreement was reached in July 1497, being subsequently ratified by the Catholic Monarchs.
Over these years, the town's appearance underwent several changes:
The town's layout was extended.
There is already evidence of the new suburbs of Bidekurutzeta and Masterreka.
The town's vulnerability to fire because of its wooden houses was of great concern to local residents. This situation led to their request for the approval in 1506 of bylaws for protecting against fire, followed by others in 1518 that regulated the rebuilding of safer and more robust houses.