Bonce you have parked your car in the outskirts, Bergara provides numerous other options for moving around in the town.
Bidegorri, getting around by bike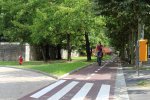 I-6 Bergara - Beasain :  29,7 Km guztira, informazio gehiago
Bergara has many long stretches of cycle lanes within the town itself, and in addition, they link us to Elorregi (Mondragón-Oñati), Antzuola and Soraluze.
Transportation and car parks
Herribús in Bergara: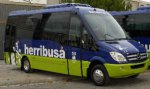 The local bus service Herribús de Bergara dates back a long time, and this tradition now goes hand-in-hand with innovation, working in favour of the environment. In fact, our herribuses run on gas (LPG), reflecting Bergara's commitment to the environment.
WHERE TO PARK, if you come by car: