With the aim of continuing to socialize the archaeological and recreational value of the Dolmen Route (PR-Gi 94), the Municipalities of Elgoibar, Bergara and Soraluce, in collaboration with the Debegesa Debabarren Development Agency, have launched a new program of free guided tours.
The guided route is 9 kilometers long and lasts three and a half hours, from Karakat to Irukurutze. The route is easy and has little incline, ideal for families. The guided tours will leave from the Karakat car park, in Soraluz, at 10:00 am. Pre-registration is required.
More information: here.
The route of the dolmens PR Gi-94: Elosua-Placencia megalithic site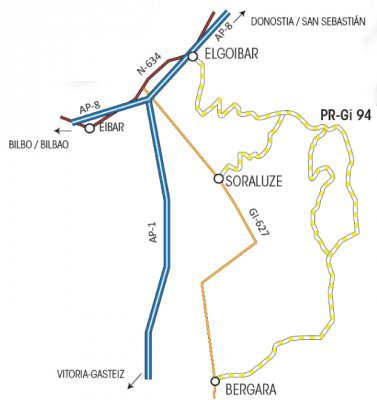 This route takes us along the way that used to connect the valleys of the Deba and Urola rivers. Between the Neolithic and the Bronze Age, human communities chose mountain ranges such as this one, prominent features in the landscape, as burial sites and boundary markers. The dolmens and tumuli that make up the Elosua-Placencia megalithic site, spread out along the mountain range defined by the summits of Karakate, Irukurutzeta and Agerreburu, whose appeal is heightened by the extraordinary views we can enjoy on our way.
The route of the dolmens heads in a straight line through the Karakate-Agerreburu divide. The mountain range is accessible from any one of the following towns: Bergara, Soraluze and Elgoibar. Leaving from Bergara, we take the path leading from the neighbourhood of Arane toward Elosua.
We can head as far as Soraluze or Elgoibar, or we can take a circular route along the Aizpuru road (PR Gi-94.2), and return to Bergara.
CALENDAR OF GUIDED VISITS YEAR 2023
The guided tours of the route of the dolmens are back on April 9. A perfect opportunity to go back 6,000 years in history and discover places of interest of great archaeological value.
It is necessary to reserve the activity by writing to
info@begi-bistan.com
or by phone at 657 79 46 77.
| | | | | | | |
| --- | --- | --- | --- | --- | --- | --- |
| 9 abril | Domingo | 2023/4/9 | 10:00 | 14:00 | Dolmenes | Euskera |
| 14 abril | Viernes | 2023/4/14 | 10:00 | 14:00 | Dolmenes | Castellano |
| 7 mayo | Domingo | 2023/5/7 | 10:00 | 14:00 | Dolmenes | Euskera |
| 21 mayo | Domingo | 2023/5/21 | 10:00 | 14:00 | Dolmenes | Castellano |
| 4 junio | Domingo | 2023/6/4 | 10:00 | 14:00 | Dolmenes | Euskera |
| 25 junio | Domingo | 2023/6/25 | 10:00 | 14:00 | Dolmenes | Castellano |
| 16 julio | Domingo | 2023/7/16 | 10:00 | 14:00 | Dolmenes | Euskera |
| 23 julio | Domingo | 2023/7/23 | 10:00 | 14:00 | Dolmenes | Castellano |
| 17 agosto | Jueves | 2023/8/17 | 10:00 | 10:00 | Dolmenes | Castellano |
| 3 septiembre | Domingo | 2023/9/3 | 10:00 | 14:00 | Dolmenes | Euskera |
| 17 septiembre | Domingo | 2023/9/17 | 10:00 | 14:00 | Dolmenes | Castellano |
| 1 octubre | Domingo | 2023/10/1 | 10:00 | 14:00 | Dolmenes | Euskera |
Atala:
Proposamenak (behe aldean)