Ingredients and circumstances that come together to create an outstanding sweet: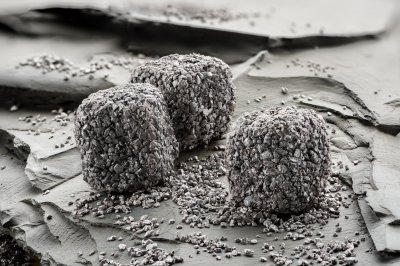 The first ingredient is the idea of marking the town's 750 anniversary and honouring our ancestors.
The second is the discovery of tungsten here, as a milestone that has received international recognition this year from renowned scientists.
The third is the DNA in our local baking, as specialists in fillings and cookies.
All these ingredients have come together to create a sweet like no other, which combines history, cooperation and a job well done, besides good taste, of course.
Recipe and method:
• Silvery chocolate exterior.
500 g of 70% chocolate and silver food colouring.
Break up the chocolate in a food processor. Add the colouring to create a metallic appearance.
• Flourless sponge.
720 g egg whites, 720 g sugar, 920 g egg yolks and 400 g cocoa powder.
Whisk the egg whites, adding sugar until you have a firm texture; keep beating as you add the yolks. Fold in the cocoa powder. Spread on metal trays and then bake at 180º for 8-10 minutes.
• Candied yolks.
190 g egg yolk, 150 g sugar, 50 g glucose, 100 g water, and 10 g lemon juice.
Mix the sugar, glucose and water in a saucepan.  Add the lemon juice and thicken over the heat until you have a smooth mixture. Leave to cool and then fill a piping-bag.
Finally, pipe the egg yolk filling onto the layers of chocolate sponge and then roll it up like a Swiss roll. Cover the roll with more of the yolk mixture and finish by dipping it in the cholate pieces.
Available from the following:
Panaderías Bolintxo (Baker's).
Pastelería Larrañaga (Cakeshop).
Panaderías Ogiberri (Baker's).
Restaurante Lasa.
Restaurante Zumelaga.
Atala:
Proposamenak (behe aldean)